There has been a lot of media coverage about loan scammers going on lately, especially during this COVID-19 pandemic. Usually loan scammers have these few tricks under their sleeve. I'm sure most of you must have heard of scammers asking for an upfront payment or processing fee, 0% interest rate and 100% guaranteed loan approval. Its crazy how it sounds very unrealistic but yet these scammers have their way of persuading victims to fall into their trap.
Some of them even got creative by pretending to be other personal loan platform, including us. We have received several reports of unauthorised personnel (scammers) pretending to be Direct Lending. This irresponsible syndicate used our company name illegally without permission and asked victims for an upfront payment for loan processing. Usually, loan borrowers with a bad CCRIS and CTOS record are the easy targets of scammers.
To protect the public from falling prey to these unscrupulous organisations, we decided to do our part in raising public awareness. In this article, we share the most common signs of loan scams that you should watch out for and what you should do in case you have been scammed?
6 Warning Signs of Personal Loan Scam
1. Pay an upfront fee before loan application
If you are ever asked to pay an upfront fee (or deposit) in order to be able to proceed to get a loan, then it is most probably a scammer trying to make off with your money. No legitimate lender will EVER ask you to pay anything before you receive the loan. In fact, it is actually illegal for them to do so.
Similarly, if you are using a loan agent or consultant to apply for a personal loan licensed moneylenders, you do not need to pay them for any fee. They shall receive their income as a commission from the bank or koperasi once the loan is approved.
Most scammers will try to justify the upfront payment as mandatory processing fees, advance repayment, insurance or even collateral. But these fees, even if required, will always be deducted from your loan amount before disbursement instead of being paid by you directly.
2. Asked to provide an ATM card or debit card
You are asked to provide your ATM or debit card as part of the loan application submission. This is most likely a loan scam as the scammer will ask you for money once the loan is approved and credited into your bank account.
They will use the ATM or debit card to either withdraw the money or ask you to give them a processing fee before they return your ATM or debit card. Any processing fees should be deducted directly from your loan amount before crediting the loan amount into your account.
3. Did not apply for a personal loan or amount borrowed is more than what you applied for
You receive a call or email saying that you are qualified for a loan with low interest rates. Sometimes you are even told that the loan is specially for you. But you did not even apply for any personal loans recently.
Or maybe you applied for one, but you are offered an amount that is more than what you have applied for. Beware of these unsolicited credit offers, and check if they are the real thing before proceeding.
4. Offers or loan schemes that are too-good-to-be-true
What does it mean by offers or loan schemes that are too good to be true? Unrealistic offers like guaranteed approval rate or interest rate that are too low. For instance, if you are told that the loan you are getting has '0% interest rate' or 'guaranteed cash or 100% approval', block and delete that scammer right away.
Remember, a legitimate lender will check if you are capable to pay back your loan. Every lender cares about getting their money back. Legitimate lenders would measure your creditworthiness based on the following factors before approving your personal loan.
Income & employment history
Existing commitments
Age & loan tenure
Savings & assets
Credit history (CCRIS & CTOS report, any blacklist/listed under 'Special Attention Account' (SAA) or 'Agensi Kaunseling dan Pengurusan Kredit (AKPK)
However, there is good news for those that have a 'not so good' CCRIS or CTOS credit record. There are a few financiers that are more lenient when it comes to offering credit to government servants that have a less favourable CCRIS or CTOS record, high outside commitment, blacklisted, and listed under AKPK. Read here for options of the 5 Best Bank & Koperasi Personal Loan 2022. These financiers are able to offer this because the repayment is through salary deduction and are authorised by the regulators to do so.
5. Forced to make quick decisions
If a lender or a loan agent keeps pushing you to make a decision immediately, because their 'low-interest, one-time offer' is ending soon, then take it slow. That is because the scammers want to seal the deal with you fast and move on to their next victim. Never be pressured into making any decision, and only proceed when you are 100% sure who you are dealing with.
6. Suspicious request for personal information
Sometimes, the scammer is not after your money, but to steal your identity for fraudulent purposes. They will impersonate a bank representative or loan company through phone calls, emails or even social media to trick you into giving them your personal information. This is called phishing.
Never give out copies of your I.C., driver's license or bank account information unless you know who and what it is for. These scammers can even post advertisements using the name of legitimate companies, but these actual companies themselves are unaware of such impostors.
Video: Signs of Loan Scams
What To Watch Out For To Protect From Being Scammed?
Here we share in more details what you should look out in a few common scenarios to protect from being scammed:
Apply Loan From Credit Community
Licensed moneylenders (PPW) or now known as Credit Community are governed and regulated by the Ministry of Housing and Local Government (KPKT). The Credit Community is licensed under the Moneylenders Act 1951. The interest rate as stated in the Moneylenders Act ranges from 12% p.a. (secured loans) and 18% p.a. (unsecured loans).
Check the Company's Licensing Status On i-KrediKom
You should first check if the moneylender you are applying with is a legal moneylender. Previously you can check by using the eMAPS system, prepared by KPKT. Now KPKT has launched its own app called i-KrediKom which allows you to check the company's licensing status easily. This app is free to download via Apple Store and Google Play.
Here are the steps to use the i-KrediKom apps to check the license status of a licensed loan company:
Download and install the i-KrediKom apps on Google Play or the Apple App Store. You just need to search for "i-KrediKom" on Google Play or Apple App Store.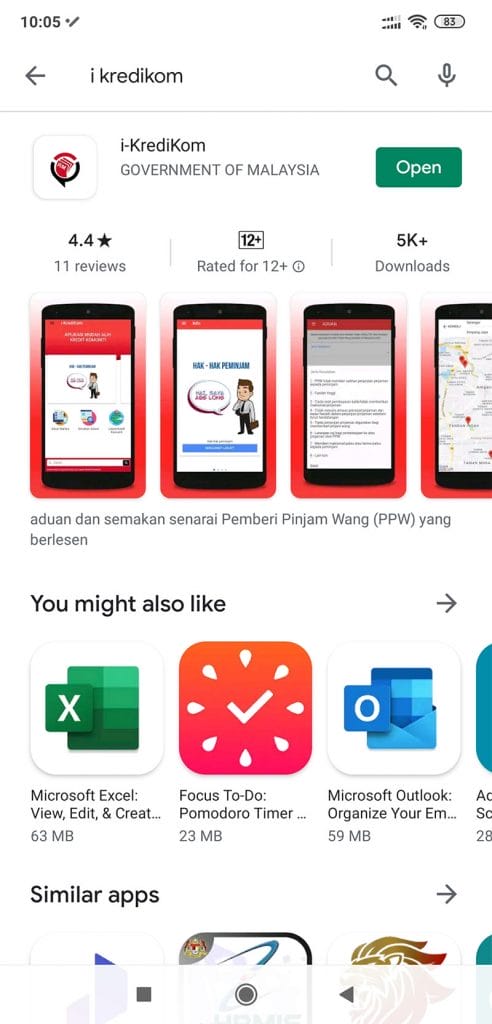 2. Run the apps.
3. Type the name of the company you want to search in the "Search" field.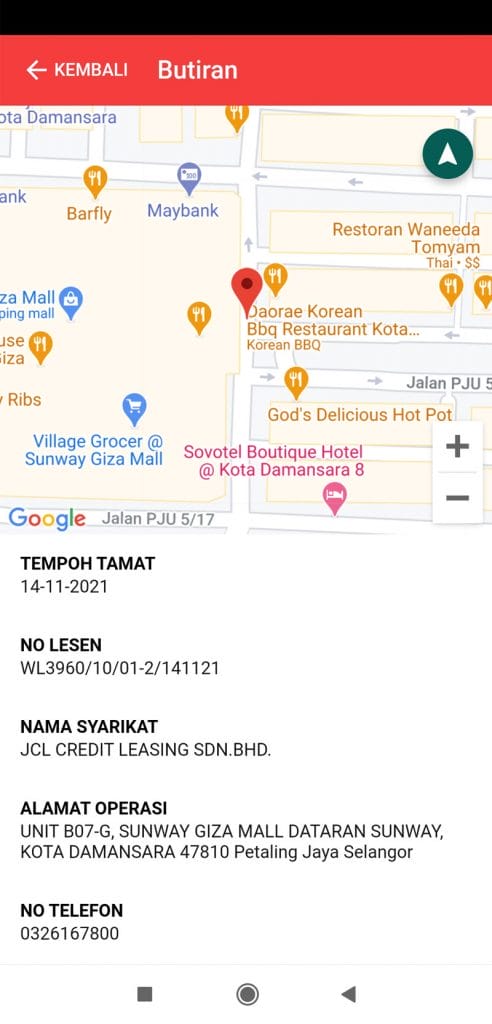 Just like the previous eMAPS system, with this i-KrediKom app, all you need to do is include the company name and company registration number to find out if it is registered under KPKT. If the company is registered under KPKT, the information about the company would be displayed. You can click on the link of the company to find out more information such as the registered business address and company phone number. If the company is not registered or its license has expired, then the system would show no records was found – 'Tiada Padanan'.
Besides that, you can also lodge a report through the app itself. Do note that this app only covers registered companies located in West Malaysia at the moment.
In addition, all legal moneylenders will only offer loans that are in compliance with the Moneylenders Act 1951, particularly the interest rate is not above 18% per annum and the loan agreement is valid with proper loan documentation in place. For more info on licensed moneylenders, check out our article where we compare the difference between legal moneylenders and Ah Long.
There are scammers who pretend to be a legal moneylender would ask the borrower to pay cash upfront or provide their ATM or debit card in order for them to approve the loan. All legal moneylenders will not ask for upfront cash or ATM card as it is illegal for them to do so.
Apply Loan On A Safe Personal Loan Platform/Financial Agency
It has been common for potential borrowers to use a loan platform or loan agency to find and apply for a loan most suit them, as in many times, borrowers may not know what loans out there are suitable and he/she can qualify for. These platforms or agencies act as a 'bridge' to other financial institutions or lenders.
Unfortunately, there have been unethical loan platforms or agencies that take advantage of the borrowers. Among them, they will ask borrowers to pay for the loan consultation service. Worst still, after you have paid, you are no longer able to contact them.
A proper and legitimate loan platform will NEVER ASK you to pay for anything. Direct Lending is a bank and koperasi loan platform for government servants, our service is 100% free. We receive our income from bank and koperasi directly once the loan is approved, aligning our interest with the borrower also.
So, please do check if the platform or agency is asking for any fee before engaging them. Also, you can check out their customer review before engaging them. With social media and the internet, it is easy to find out customer's feedback on them.
Watch Out For Online Advertisement/SMS or Cold Calling Offering Loan
From time to time, I'm sure most of you have received phone calls, emails, SMS, etc. offering you credit card, personal loan and more. Or even a Facebook advertisement that popped up on your feed. This does not mean that every offer that you receive via these channels is a scam. Some of them are actually from legitimate sources like banks.
The first tip is to be clear on what the source is offering. Then, confirm where the source is from. If you are applying through a website, make sure it is website URL is legit and secured as there are incidents scammers creating fake or lookalike banks social media accounts and run loan advertisement using these fake accounts.
If you are receiving SMS or cold calling from someone informing you that he/she is from bank or a financial institution and offering you a loan that you have not applied for, please check the phone number and be wary if it is a handphone number. If you are unsure, you can get their name and call back to the office to confirm if the person is really calling from the institution as he/she claims.
Moreover, there are also cases whereby individuals claiming to be an agent of AKPK to offer debt management service. An example of how this scam works is by asking the borrower to take a personal loan to fully settle his outstanding loans. Then the scammer helped the victim to apply to AKPK while telling the victim that the Debt Management Programme is a special loan from Bank Negara. In the end, the victim paid about RM20,000 to the scammer for his 'service'. So, please be careful. These scammers can be really creative with their dirty tactics.
Check Bank Account Number or Telephone Number Into the CCID Portal
If you have doubts about the person you are dealing with, you can log on to Portal Crime Investigation Royal Malaysia Police. This portal is managed by the Commercial Crime Investigation Department (CCID). Every information about cases that have been reported previously is stored on this portal. So, if you feel there is a suspicious party that you would like to check, all you need to do is to key in the bank account number or telephone number into the CCID portal.
Steps to use the Portal Commercial Crime Royal Malaysia Police:
Log on to -> https://ccid.rmp.gov.my/semakmule/
Choose category 'The Bank Account' or 'The Phone Number'
Fill in details of the suspect
Type in 'Captcha' as shown on the screen
Click the button 'Check Information'
Or you can download the 'Check Scammers CCID' apps. This is only available for Android users. This app is pretty easy to navigate. All you need to do is to insert the bank account number or the suspect's telephone number on the app and click check. If the information matches a reported case, then the screen would appear as shown in the image below.
Assuming that the financial agency that you are dealing with is legit but they do charge a fee. In a situation like this, try to look out and check if the bank account given to you is a personal account or a company account. Same goes with the phone number, is it a registered company telephone number or an individual telephone number. Do check on information as such if you have access to them.
What To Do If You Have Been Scammed?
If the account number or telephone number inserted has a record in the Portal Commercial Crime Royal Malaysia Police and transaction has been done, you need to follow the proposed steps.
File a police report – Include every evidence that you have such as transaction receipt, WhatsApp conversation, information about the scammer and etc. There are many cases whereby victims are threatened by the scammers when the victim does not want to pay the deposit money when asked or when the victim wants to cancel the loan application. The police report can act as an evidence if the victim is threatened. You can also file a police report via Whatsapp or SMS (013-2111222) from 8 a.m. until 12 a.m, daily.
Contact a financial advisor – Do seek professional advice when it involves losing a huge sum of money. For example, you can refer to AKPK – a credit counselling and debt management agency that provides free services to individuals. If you have performed monetary transactions with the scammer, it is likely that it would be difficult to get back your money. So, try to seek advise and see what you can do next.
Inform & share your experience – Don't feel shy to share your experience especially on social media so that this incident will not happen to others. Who knows the post that you share might go viral on Facebook and users might even do you justice by helping you to identify the scammer?
Be a Smart Borrower
If the loan you are offered contains one or more of the above warning signs, be cautious and make sure you check thoroughly who you are dealing with before proceeding further. If you happen to use the scammer's 'services', they would find a way or excuse to ask you for an upfront payment or service fee.
We would like to remind you again that legitimate lenders will never ask you to pay anything like an upfront payment or service fee before you receive the loan. Be a smart borrower and only borrow from legitimate financiers.
If you do have any questions or you would like to seek some advice from us, we will try our best to help you without any charges. You can DM us our Facebook page.
Watch this video for further explanation.
Have You Been Scammed By A Personal Loan Scammer?
In case you would like to apply for a bank and koperasi personal but you are unsure which one is the best for you, don't worry. Direct Lending is ready to assist you. Check your eligibility with us for 100% free through our smart technology system. We then recommend you the best personal loan options that best fit your financial needs and position. Absolutely no hidden charges or upfront payment fees involved.
(This article was originally published on the 10th September 2017 and updated on the 30 May 2022).